Hi, Thanks for dropping by. 
The video tutorial will show you step by step on how to weave and you can learn at your own time and pace at home. After watch the video tutorial, you will be able to replicate the pattern easily as gifts for family and friends. This is also fun, therapeutic and inspirational at the same time.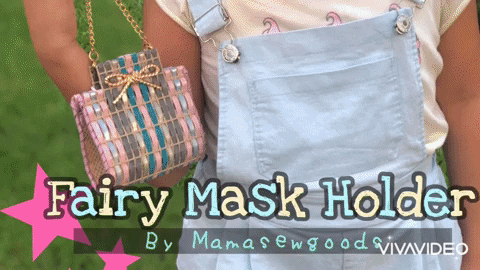 LEVEL: Beginner
PROJECT DURATION: 1.5 - 2.0 Hours (Dependent on your pace)
DIGITAL DOWNLOADS: 12.0 MB (please ensure to provide your email address to us)

A

 PDF document of dimensions and instructions
Includes link to the online, streaming tutorial video (19 Minutes)
MATERIALS & Tools YOU NEED: (Excluded)

Weaving Net

Fairy Tape (5mm)
Button Magnet
Scissor

lining (optional)
Glue (optional)
Decoration (optional)
WHAT YOU WILL LEARN:
A pattern for a simple, Fairy Mask Holder

How to weave the body

How to keep the edge after complete weaving

How to put the glue on your project
How to wrap the side edge
How to put button magnet & decoration
How to put lining without sewing
Cancellation Policy:
Please note that there are strictly no refunds or exchanges after your purchase.

Interested to buy Kit
Payment Method:
PayNow/PayLah to 90059761 is available :)
Payment must be made - - within 3 Business working day - -
Otherwise, it will be automatically cancelled and you will need to reorder again.